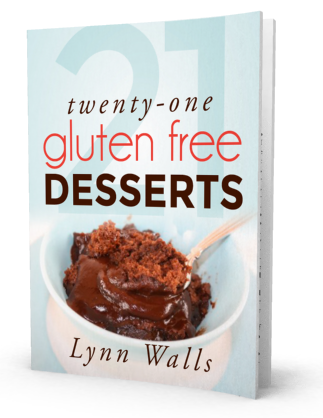 Gluten free baking can be time consuming and challenging, but it doesn't have to be.
Gluten free can be quick, easy, and delicious!
My gluten free desserts ebook will show you how. This ebook is full of my family's favorite gluten free desserts.
It contains recipes for chocolate cake, coconut bars, apple cake, cookies, and more. These are desserts that your family will love.
Both gluten free and non-gluten free eaters will love these desserts. They are so good no one will know they are gluten free!
Sign up for my free ebook and you will also receive my free weekly gluten free newsletter. This newsletter shares gluten free tips, recipes, behind the scene stuff that is going on, and gluten free things that I am working on that I don't share on my site. This will be extra bonus stuff, but will be all gluten free.
If you are not gluten free, but know someone that is gluten free, feel free to share this page with them so they can sign up and receive the free ebook! My goal is to be helpful to those that are gluten free.