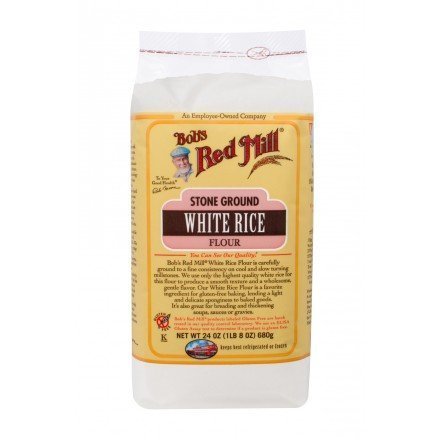 Rice flours are staples in most gluten free kitchens. They are the main ingredient in most store bought and homemade blends, so it is perfect for our gluten free food fact today.
Brown rice flour and white rice flour are just what they sound like they are, they are ground brown and white rice. You can buy brown rice and white rice flour or you can grind your own using brown or white rice.
Store bought rice flours can vary greatly in how fine they are. If you try brown or white rice flour and do not like it, I would try a different brand. Some brands have made my food gritty and others have not. I like Bob's Red Mill Rice Flours
. They are pretty readily available and I have had good results in using them, but there are other good brands of rice flours out there.
One question I am often asked about rice flours is if brown rice can be substituted in recipes that call for white rice flour and they answer is usually, yes.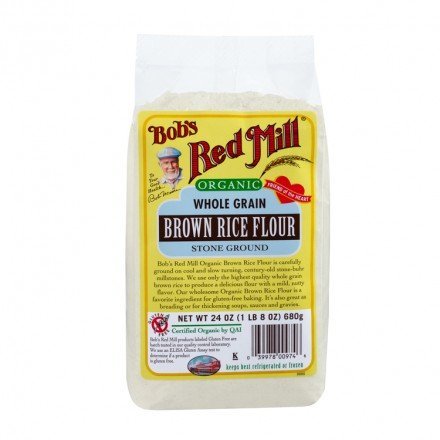 Baking with brown rice flour versus white rice flour is a lot like using whole wheat instead of regular flour in recipes. The results may vary a little, but it will work.
I often use a mix of both. If a recipe calls for 1 cup rice flour, I will often substitute half of that with brown rice flour.
I have also been known to use what I have. I try not to run out of rice flours because they are a pretty basic ingredient in a gluten free kitchen, but if I run out of white rice flour and only have brown rice flour, that is what I will use.
Now, I know a lot of people are anti rice flours for various reasons. Some are allergic, some think they produce gummy results, and others don't like them for health reasons, but I am an everything in moderation type person.
If one of us were allergic to rice, I would totally stay away from it, but occasionally using it in my gluten free baking is something I am fine with. The fact is that I do a lot less baking now that we are gluten free and if rice flours give me the best results for the baking I do, I am fine with using it.
And as far as the gummy texture, I have not found that at all. In fact in breads, rolls, biscuits, etc., I have found rice flours to give me the lightest and fluffiest results.