Gluten Free Pennsylvania Dutch Rivel Soup is an easy and delicious old fashioned recipe made gluten free.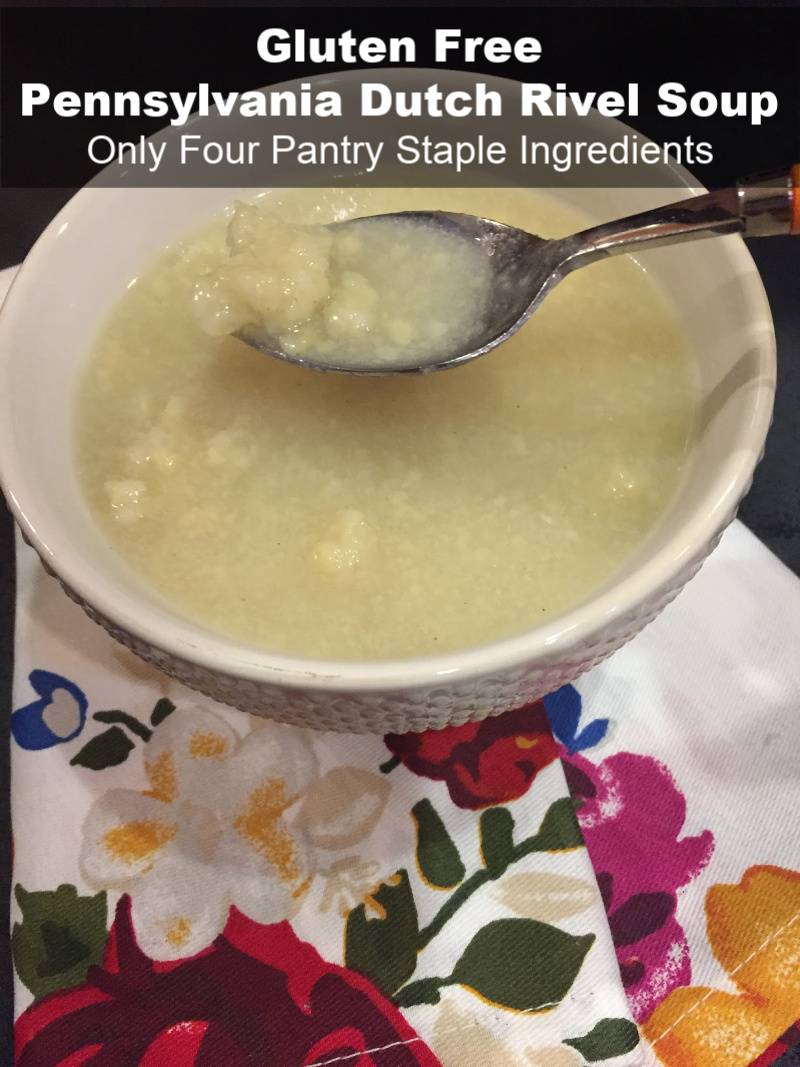 Pennsylvania Dutch Rivel Soup is a recipe that my mother in-law and her family have been making for years. I am not sure where the recipe came from, but I am guessing that it originated in the NE area of the US, therefore the name Pennsylvania Dutch Rivel Soup.
What is Dutch Rivel Soup? Dutch Rivel Soup also known as Pennsylvania Dutch Rivel Soup or just Rivel Soup is an old fashioned recipe that uses just four basic pantry staple ingredients.
If you are not familiar with Dutch Rivel Soup it is similar to a Southern style dumpling. It is a smaller noodle than a dumpling and Rivel Soup contains eggs, but it is a similar idea and texture to a Southern Dumpling.
It is one of those recipes that our grandmothers and great grandmothers probably made because it was a basic, yet comforting and filling meal that used up leftovers.
Since my husband's family has been making this recipe for years I knew that it was a recipe that I had to make gluten free.
It contained basic ingredients so I knew it would be an inexpensive gluten free meal.
The original recipe contained regular flour, but since it was simple soup I knew a gluten free flour blend would work well in place of the flour. I use Bob's Red Mill 1 to 1 Gluten Free Flour Blend, but your favorite flour blend should also work fine.
Yield: 6 servings
Gluten Free Pennsylvania Dutch Rivel Soup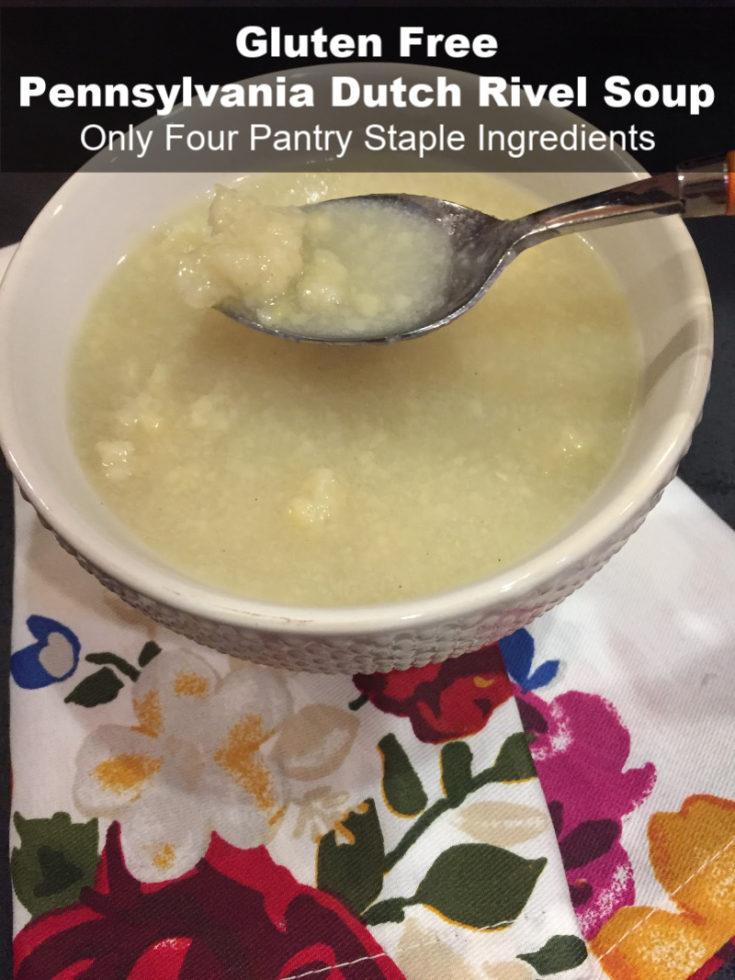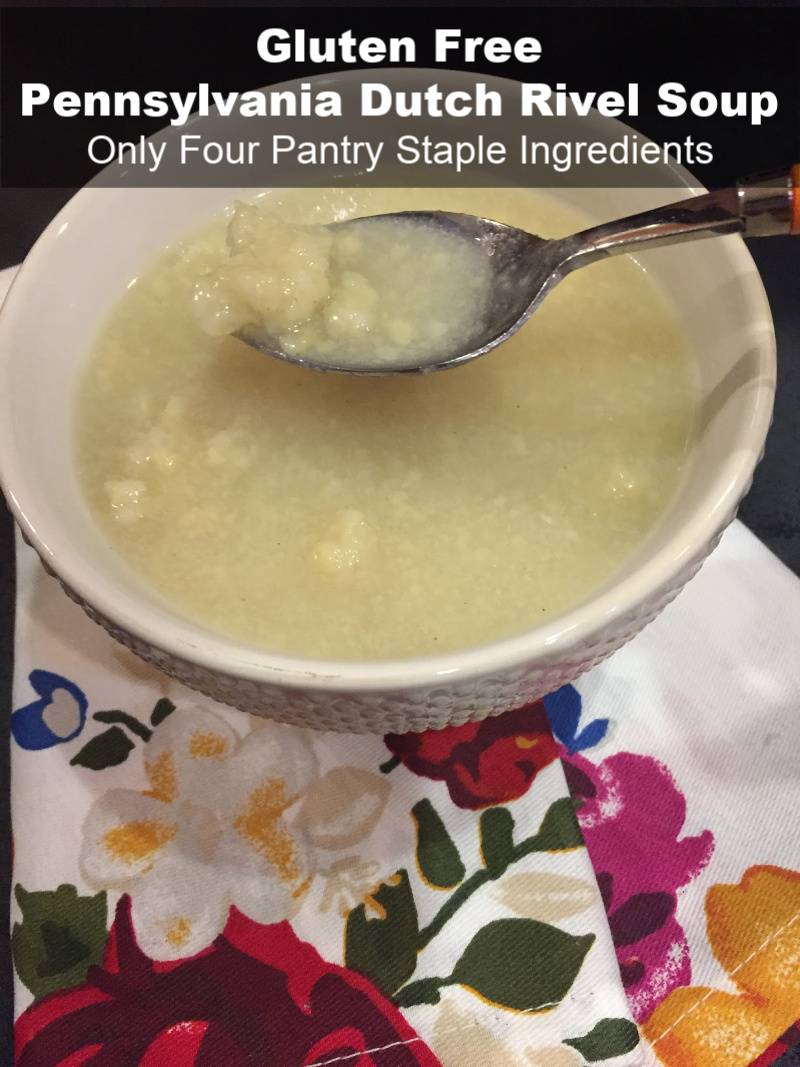 A gluten free version of an old fashioned easy to make recipe.
Ingredients
2 cups gluten free flour blend, I use Bob's Red Mill 1 to 1 gluten free flour
1/2 teaspoon salt
2 eggs, well beaten
6 to 8 cups of gluten free chicken broth or stock, gluten free beef broth, or turkey broth works as well (if you want it thick use 6 cups, if you want it more soup like use 8 cups)
Instructions
Combine gluten free flour and salt. Gradually add beaten egg while stirring flour with a fork. Mixture will be crumbly and a bit dry.
Boil broth and pour mixture gradually into broth.
Turn heat to low and cook for about 10 minutes. The rivels start to look like large rice or noodles in the broth. I usually taste test at about 8 minutes to see if they are done. They have a similar consistency to dumplings or homemade noodles, but are smaller in size.
If using meat at the very end and cook just until meat is heated.