Do you miss that famous boxed rice mix? Now you can make it at home with this easy to make Gluten Free Rice A Roni recipe.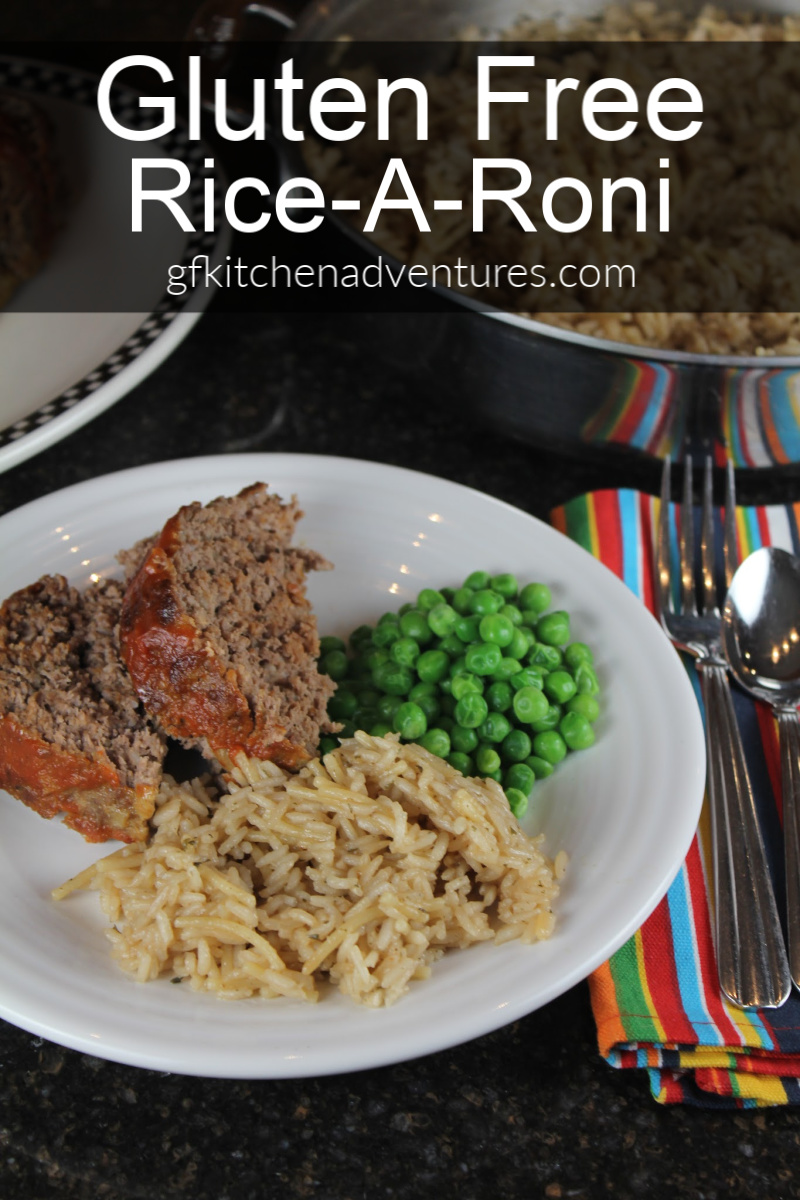 Long before going gluten free that famous box of rice mix was a pantry staple at our house.
It was an easy to make inexpensive side dish. We didn't eat it a lot, but it was perfect when I needed a quick and easy side dish. I almost always had a box or two in the cupboard.
Then we went gluten free and that famous boxed mix had to go because it was not gluten free.
One of the things about gluten free eating is that it forces you to get creative. You either have to give up your favorite foods or you have to figure out how to make them gluten free.
This was one of those things that I decided to make gluten free. Making it gluten free is actually easy. It only take a few basic ingredients.
The end results is a side dish that is so good no one will know that it is gluten free.
Serve this with baked chicken legs or meatloaf for an easy gluten free dinner. Or add cooked beef or chicken to this to make it an easy gluten free main dish recipe.
Is Rice A Roni Gluten Free?
No, Rice A Roni is not gluten free, but you can make a homemade gluten free version of Rice A Roni.
How Can I Make Rice A Roni Gluten Free?
To make Rice A Roni gluten free you just need to use gluten free pasta and read labels to be sure that your ingredients are gluten free.
What Do I Need To Make This?
gluten free spaghetti
rice
dried parsley
onion powder
garlic powder
ground thyme
broth
butter
Yield: 6 servings
Gluten Free Rice a Roni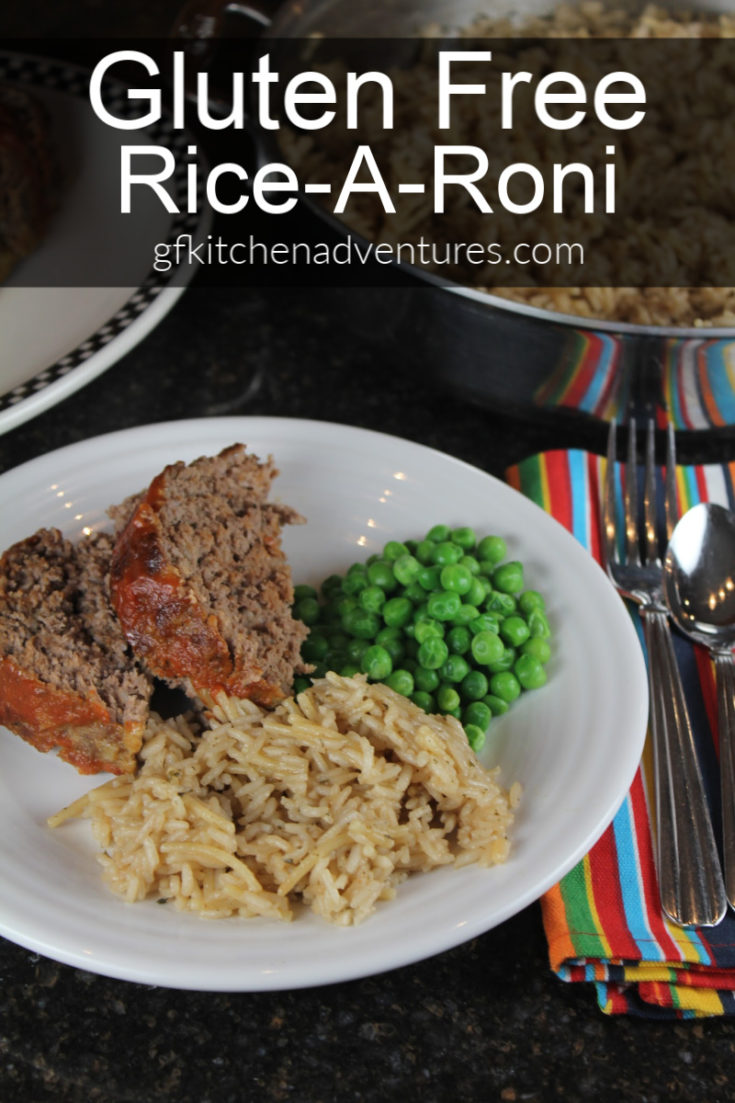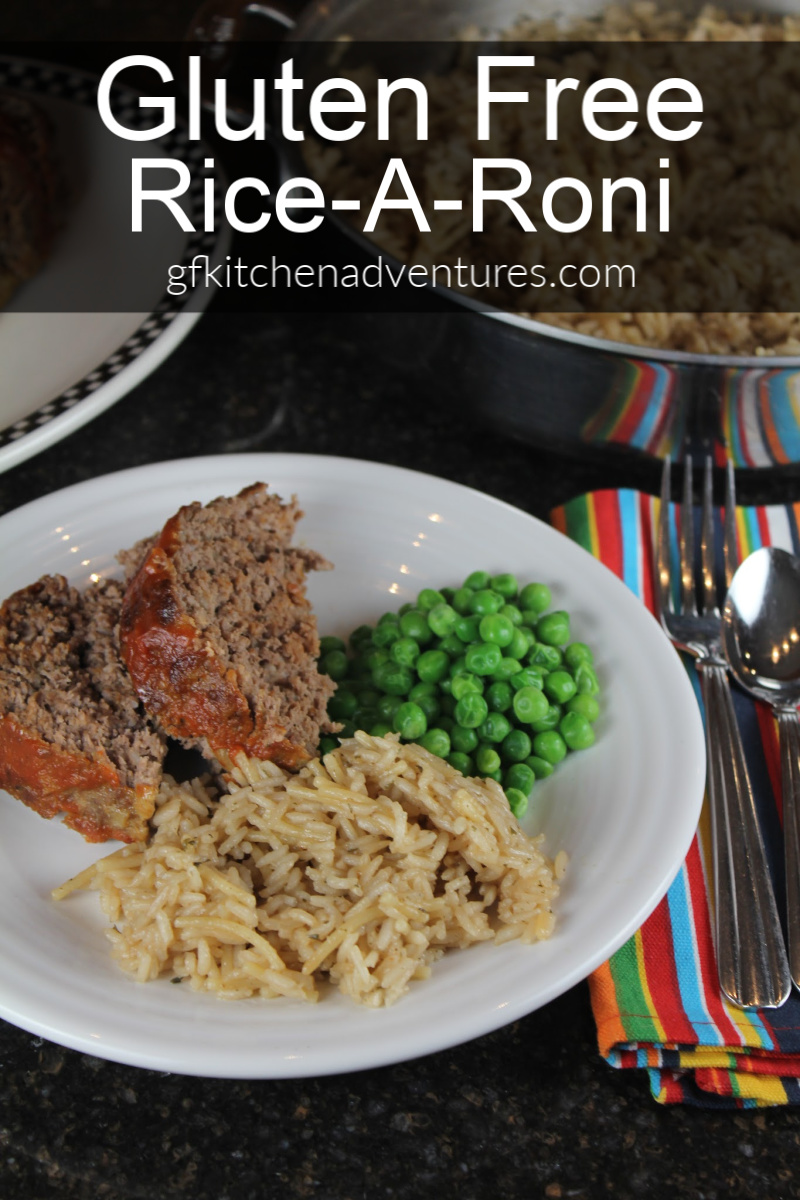 A delicious homemade version of a favorite side dish.
Ingredients
4 ounces uncooked gluten free spaghetti or similar type pasta, broken into pieces
1 1/4 cups uncooked long grain white rice
2 tablespoons dried parsley flakes
1 teaspoon onion powder
1/2 teaspoon garlic powder
1/4 teaspoon thyme, for the chicken version
3 1/4 cups gluten free beef or gluten free chicken broth or use water and gluten free bouillon
2 tablespoons butter
Instructions
In a skillet or sauce pan melt butter over medium low heat.
Add rice and pasta. Cook and stir over medium heat until rice has turned opaque and pasta has browned slightly. This takes 2-3 minutes.
Add seasonings. Stir to coat rice and pasta well.
Add broth. Bring to a boil and stir well.
Reduce heat to a simmer.
Cover and cook for 18-20 minutes or until rice and pasta is tender and liquid is absorbed.