Gluten free can be easy and delicious! If you need an easy gluten free roll recipe these Gluten Free Rolls without yeast are easy to make because you don't have to let them rise!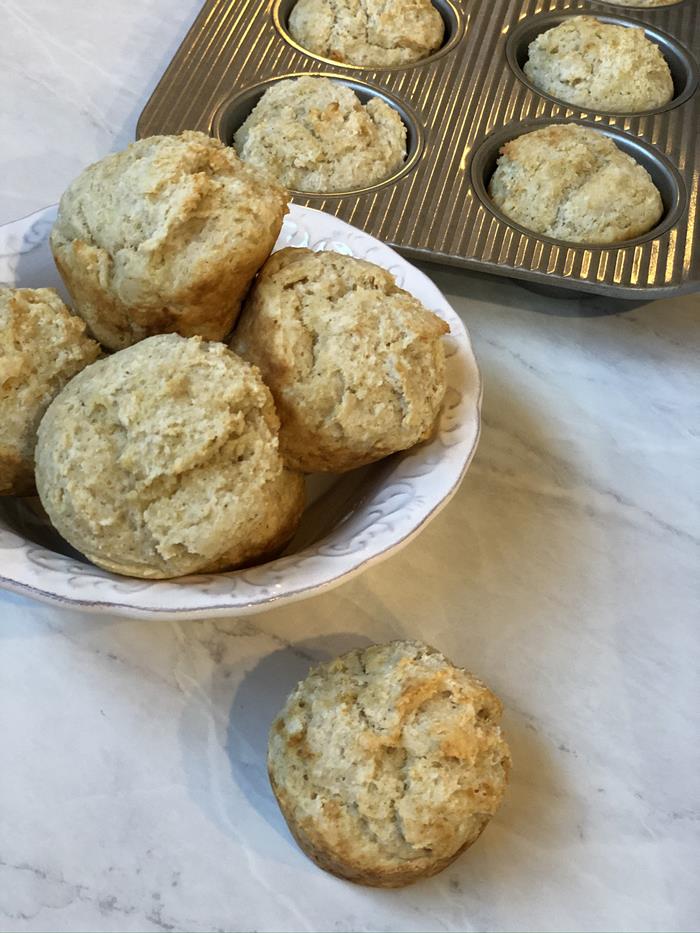 Gluten free baking can be a challenge, but it doesn't have to be. It can be easy and delicious! These Gluten free dinner rolls without yeast are an example of just that.
They don't require a rise time so they are quick to make and they taste great.
This gluten free roll recipe is a cross between a roll and a biscuit. They are fluffier than a biscuit, but a little more dense than a normal dinner roll.
Yeast is not an ingredient that everyone keeps on hand. It is also something that has been hard to find during the current events of spring 2020.
Almost everyone though keeps baking powder and baking soda on hand. Those are the ingredients in this recipe that makes it rise, so no yeast is needed.
If you want an easy roll to go along with your breakfast, lunch, or dinner these are perfect. They are so good with honey on them!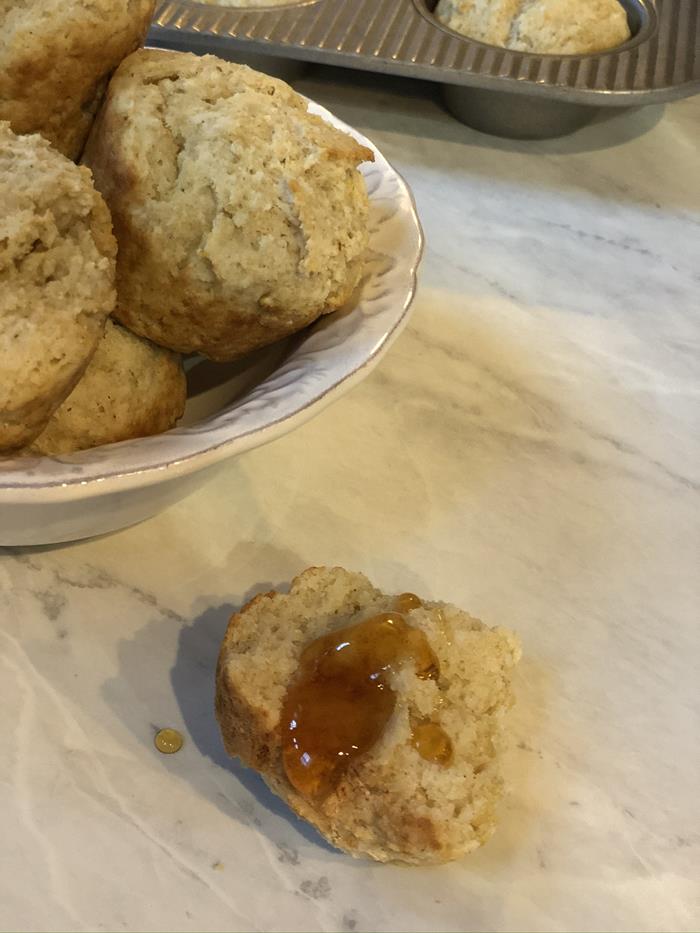 Can I use a gluten free flour blend in this recipe?
Yes, you can. In fact the recipe calls for a gluten free flour blend.
Many of my recipes call for individual gluten free flours, but one of the most common question I get is about using blends in my recipe instead of the individual flours.
Most of the time I think that the end results are better when using individual flours. But I also know that a lot of people don't keep the individual flours on hand. I am working hard on developing more recipes that use a blend instead of just individual flours.
I use Bob's Red Mill 1 to 1 gluten free flour blend in this recipe. It is my favorite gluten free flour blend. I have not tried it with other blends, so I don't know how they work. If you try another gluten free flour blend in this recipe I would love to know how it works.
Can I make gluten free rolls without yeast without the dairy?
No, they don't work the same. Or at least the versions that I have tried have not worked. I am still trying to come up with a dairy free version. If I find a version that works I will share it. Until then I think this is one of those recipes that really does need the dairy.
Now for the recipe!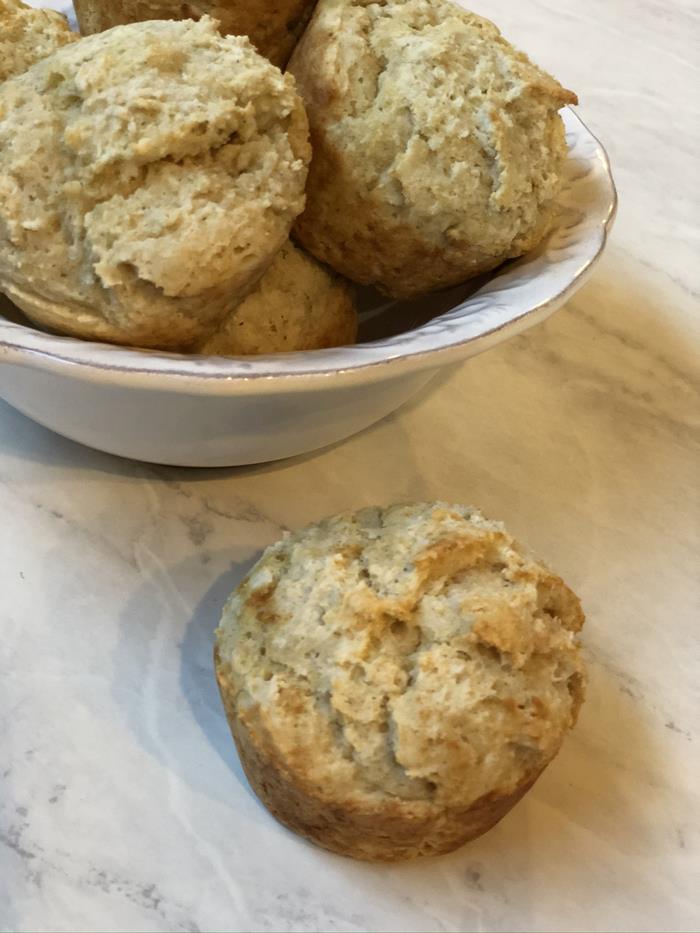 Yield: 22 rolls
Gluten Free Rolls without Yeast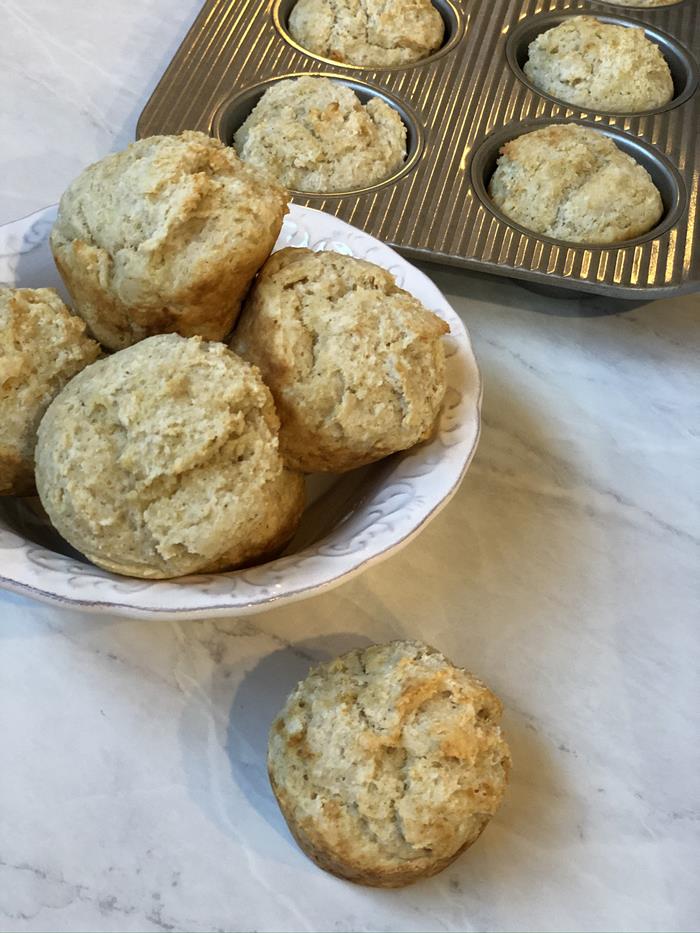 Gluten free rolls without yeast are easy to make and taste great! Even non gluten free eaters will love these!
Ingredients
4 1/2 cups Bob's Red Mill 1 to 1 Gluten Free Flour Blend
2/3 cup sugar
4 1/2 teaspoons baking powder
1 1/2 teaspoons baking soda
1 teaspoon salt
3 cups buttermilk
3 eggs
4 tablespoons butter, melted
Instructions
Preheat oven to 350 degrees.
Grease muffin pans and set aside.
In a large bowl mix together gluten free flour blend, sugar, baking powder, baking soda, and salt. Set aside.
In another bowl combine buttermilk, eggs, and butter. Whisk until combined.
Stir wet ingredients into flour mixture until combined and fairly smooth. It will have a thick batter like consistency.
Scoop batter into muffin cups, filling each cup about 3/4 full.
Bake for 15-17 minutes or until tops are nice and golden brown.
Let cool in pan for 5 minutes.
Remove from pan to wire rack to finish cooling.
These freeze well so freeze your leftovers to use for another meal.
Nutrition Information:
Yield:
22
Serving Size:
1 roll
Amount Per Serving:
Calories:

86
Total Fat:

3g
Saturated Fat:

2g
Trans Fat:

0g
Unsaturated Fat:

1g
Cholesterol:

32mg
Sodium:

372mg
Carbohydrates:

12g
Fiber:

0g
Sugar:

8g
Protein:

3g