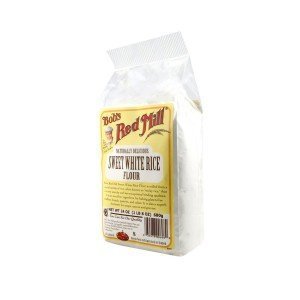 Have you ever wondered what sweet rice flour is? Or what the difference is between regular rice flour and sweet rice flour?
Sweet rice flour, also known as glutinous rice flour, is a staple in my gluten free kitchen.
Sweet rice flour is flour ground from sweet rice. And although it is also known as glutinous rice, it does not contain gluten and is safe for the gluten free kitchen.
Sweet rice is a sticky and higher starch rice and that sticky, high starch quality, works great in gluten free baking because it helps bind things together. That sticky starchy quality of sweet rice flour makes all the difference in some gluten free baked goods.
It is also a bit finer than regular rice flour, so it works well in cakes and cookies and will give you a less gritty taste.
In most recipes you cannot substitute sweet rice flour for all the rice flour, but you can usually replace some of the rice flour with sweet rice flour.
Sweet rice flour can be hard to find. Bob's Red Mill sells Sweet White Flour and I think there are a few other brands out there. You can also find it at Asian type stores and markets because they often use it in their cooking.
I love to use sweet rice flour in my my cakes and cookies and also occasionally in muffins.
If you have not tried sweet rice flour in your gluten free baking, I encourage you to give it a try. I think you will really enjoy using it, especially in your gluten free desserts.