Need an easy to make gluten free pizza crust recipe? This gluten free pizza is our favorite gluten free pizza thin crust pizza.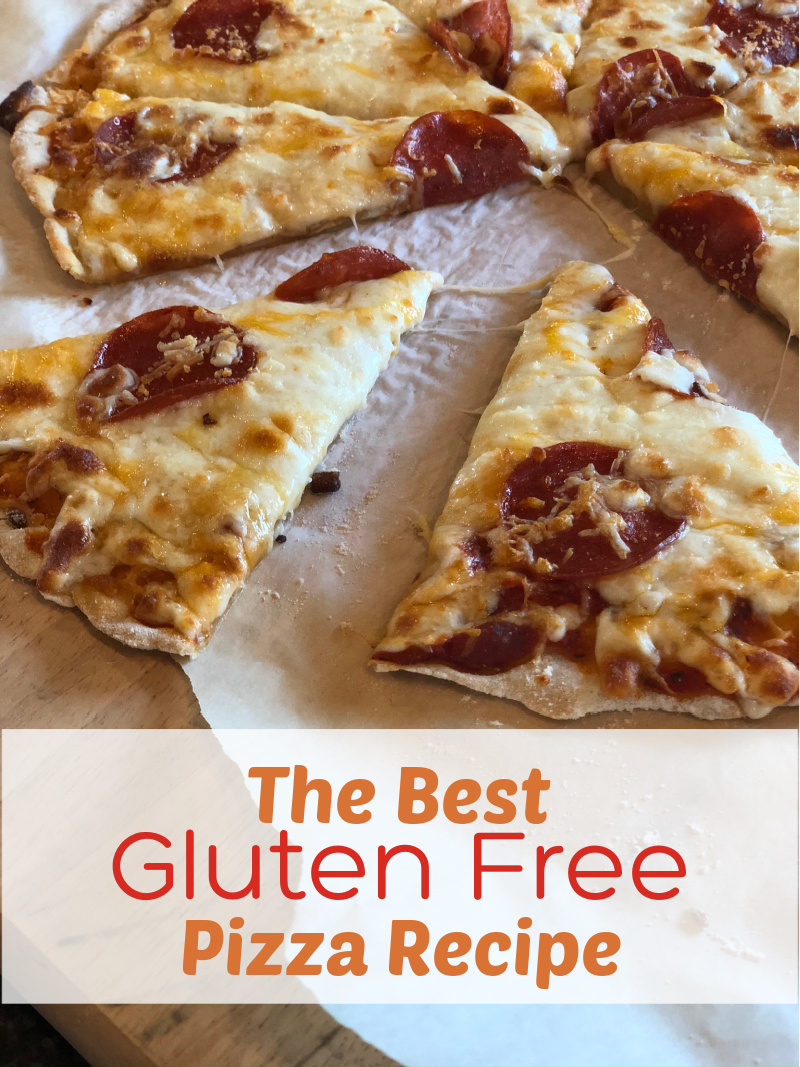 Over the last ten years, I have tried so many different gluten free pizza crusts. I have bough pre-made gluten free crusts. I have bought gluten free pizza crust mixes. I have tried pre-made frozen gluten free pizza.
I have also tried many different gluten free pizza recipes of my own. I have tried individual flours and recipes using blends.
We have a favorite gluten free deep dish pizza recipe, but we also love this gluten free pizza too because it has a little bit of a thinner crust.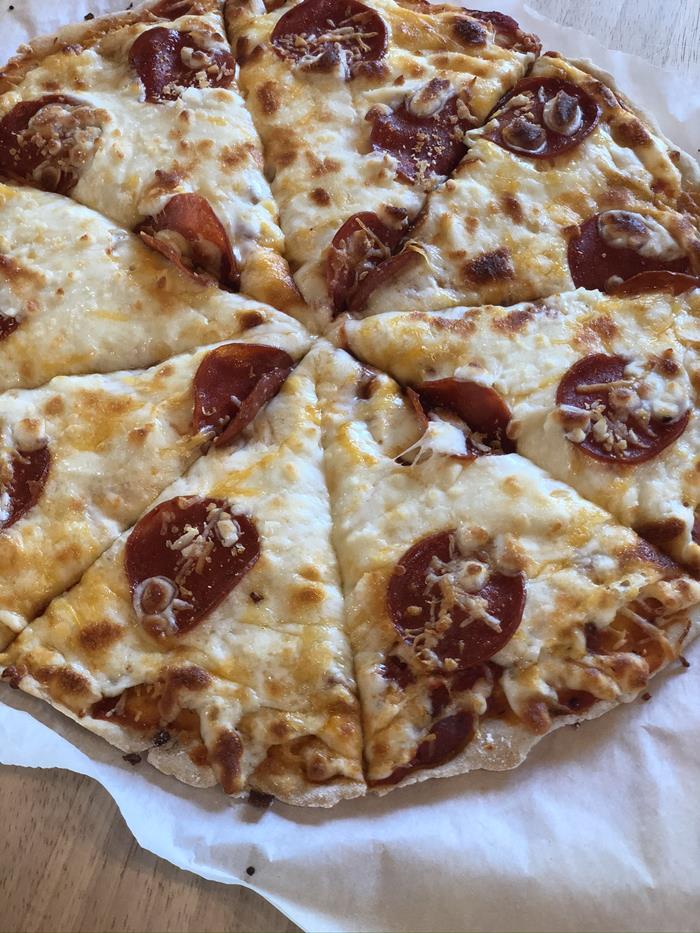 Can I use a gluten free flour blend to make gluten free pizza crust?
One of the things that I get asked the most is if I can share recipes that use a gluten free blend instead of individual gluten free flours.
Many times the individual flours work the best, but they can often be hard to find. Gluten free flour blends are usually much easier to find at grocery stores.
I tested this recipe with both Bob's Red Mill 1 to 1 Blend and King Arthur's Cup for Cup Blend. Both worked great. The King Arthur Cup for Cup gave it a slightly different texture that my son liked better. The rest of the family liked both versions equally.
The recipe might work with other blends, but I have not tried them.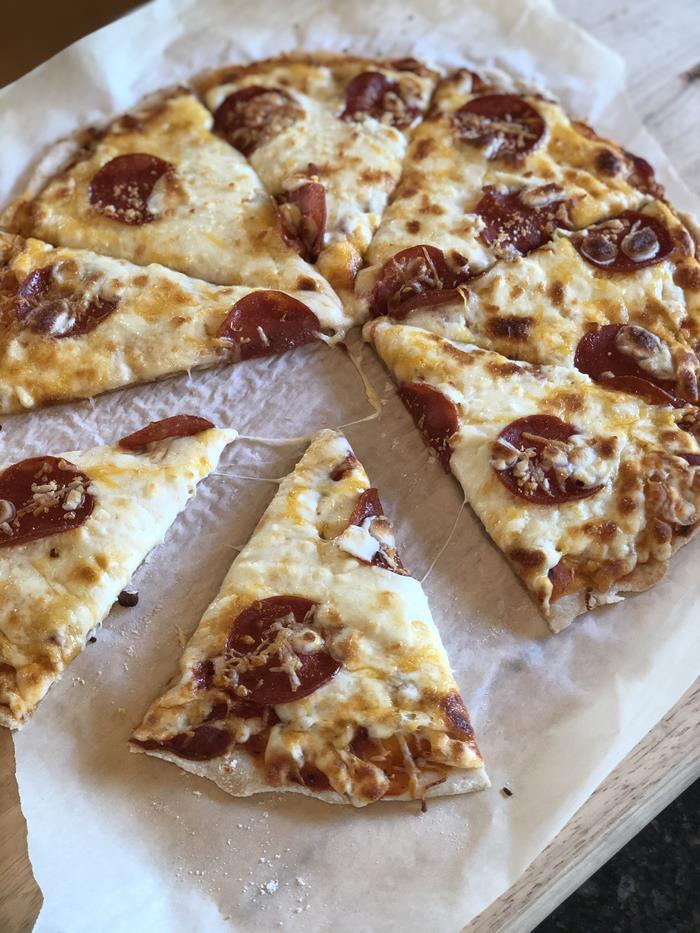 Why is my gluten free dough sticky?
Gluten free dough is going to be sticky. Some recipes are not quite as wet and sticky, but all gluten free dough recipes will be different than normal gluten filled dough.
Gluten free pizza dough and all gluten free dough, is missing the gluten. The gluten helps give dough the stretch and texture. You can come close to replicating that, but it will not be quite the same thing.
A good gluten free pizza dough and recipe will be delicious, but it will never be exactly the same as the real thing.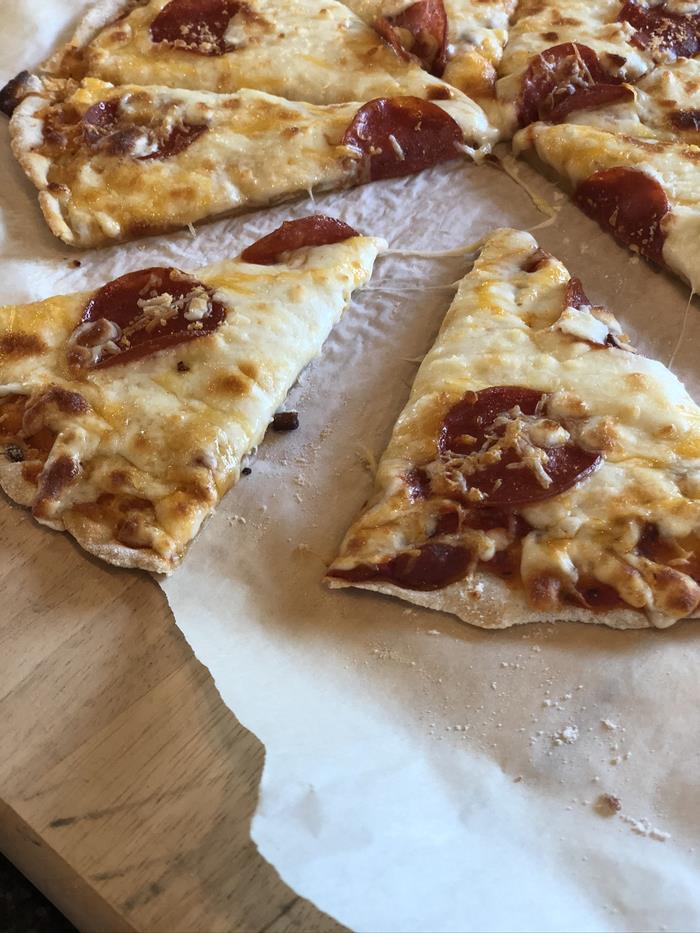 Do I need special ingredients to make gluten free pizza crust?
This recipe doesn't have any special ingredients besides the gluten free flour blend. My favorite flour blends are easy to find so this pizza recipe is easy and delicious to make using basic ingredients.
Can I make gluten free pizza dough ahead of time?
This gluten free pizza dough can be made ahead of time. You just make the dough and put it in the refrigerator until you need to use it. I have found it is best used the day you make it. If you let it sit for more than a day it develops a sour type taste that my family doesn't really like.
Now for the recipe for the best gluten free pizza!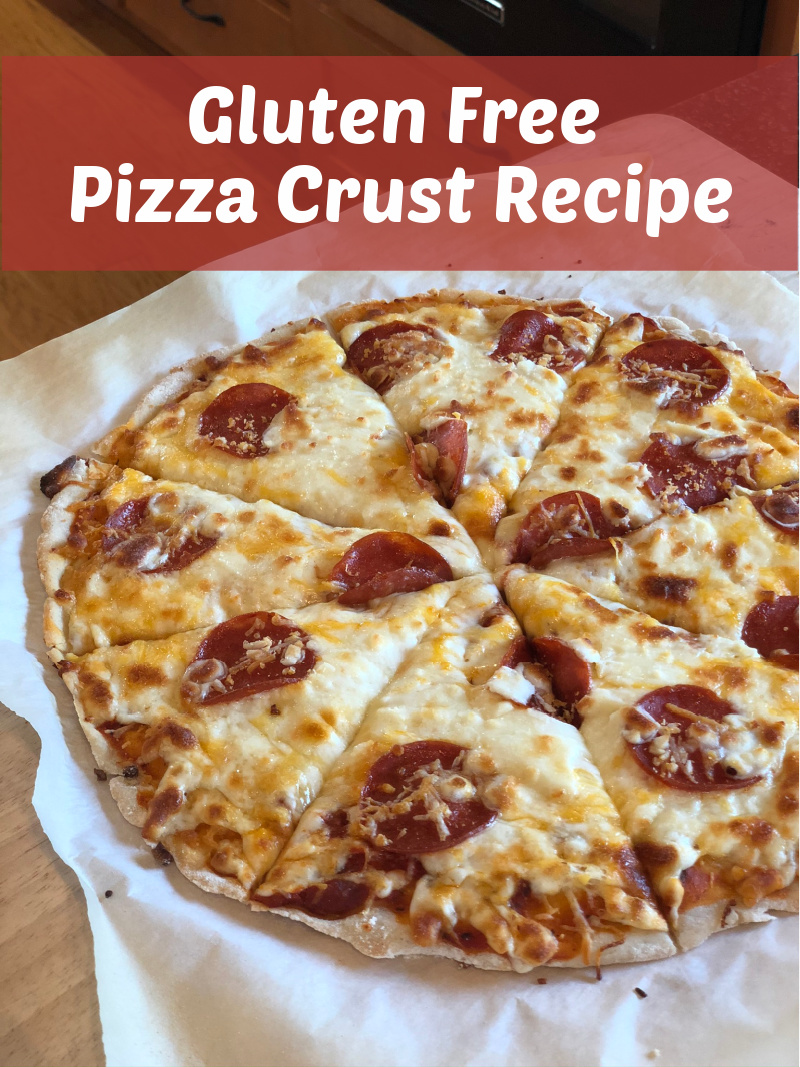 Yield: 8 servings
Gluten Free Pizza Recipe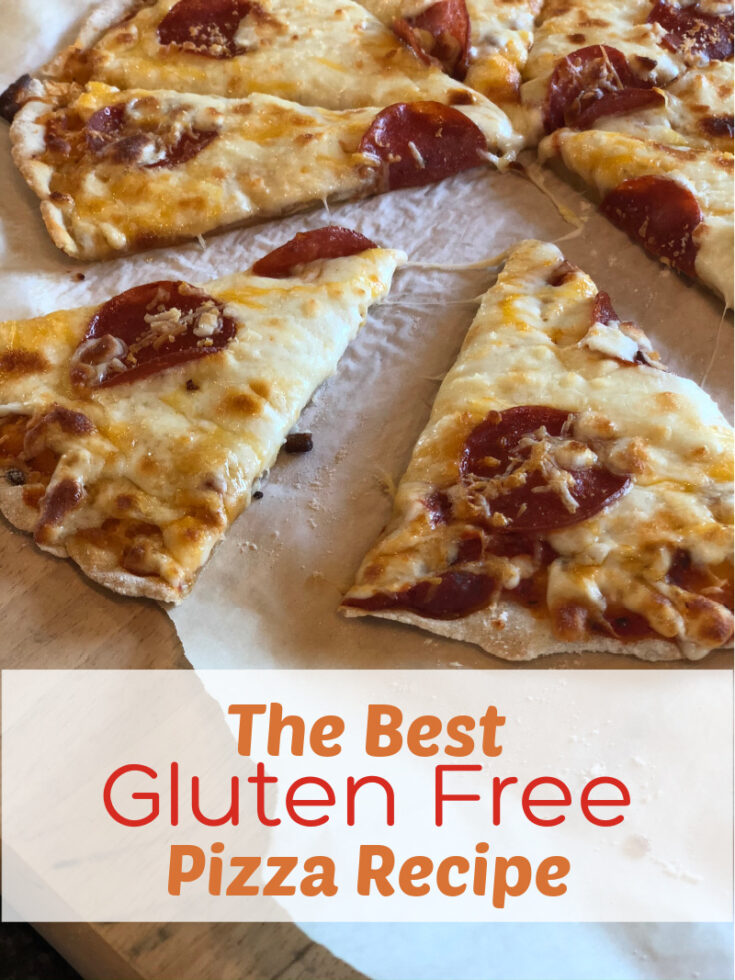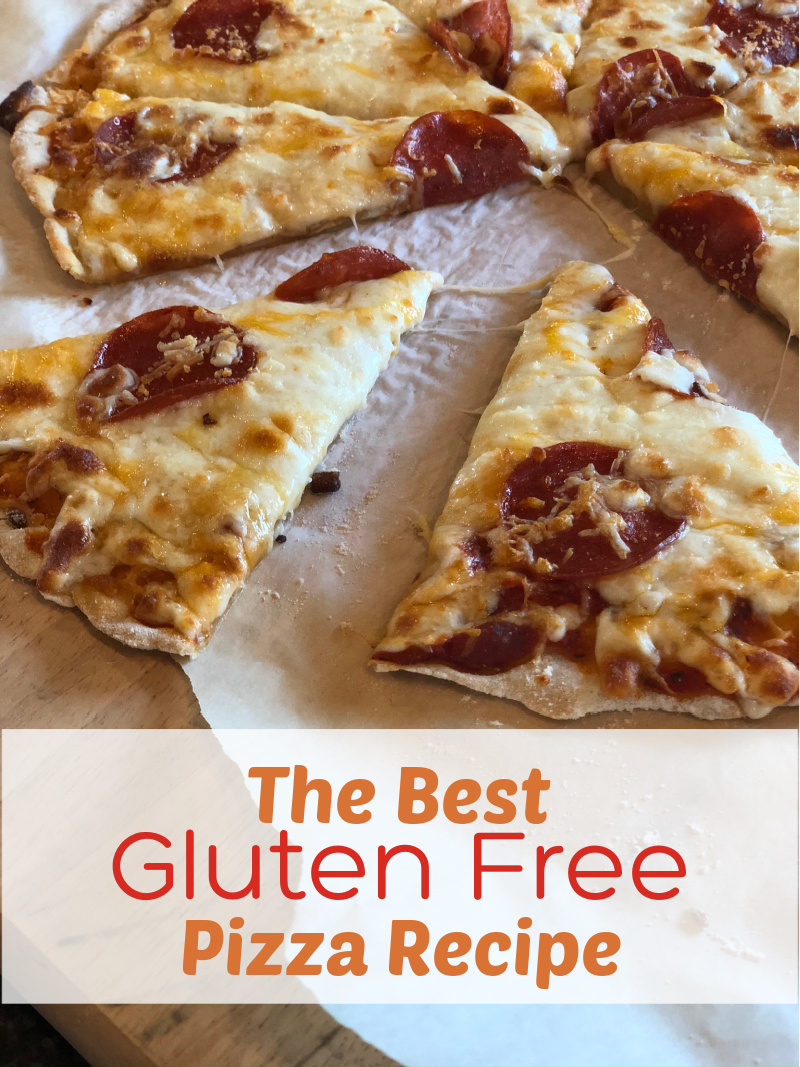 Gluten Free Pizza can be delicious with this gluten free pizza recipe.
Ingredients
1 package (1/4 ounce) active dry yeast
1 cup +1 tablespoon warm water
1 teaspoon sugar
½ teaspoon salt
3 tablespoons oil
2 ¼ - 2 ½ cups Bob's Red Mill 1 to 1 Gluten Free Flour Blend or King Arthur Measure for Measure gluten free flour
Instructions
In a bowl, dissolve yeast in water. Let sit for five minutes.
Stir in sugar, salt, oil and 2 ¼ cups gluten free flour blend. Beat together until it forms a dough. It will be slightly stickier than regular dough but should pull away from the bowl and form a ball of sorts. Add a little more gf flour if needed. I usually end up using about 2 ½ cups of the blend. I mix this in my kitchen Aid mixer with the dough hook.
Cover and let rest about 15 minutes.
Preheat oven to 400 degrees.
With floured hands ( greased hands work too ) press dough onto a cookie sheet or pizza pan. (We like to line the pan with parchment paper, but you don't have to. It just makes clean up easier and the dough a little easier to press out. )
Bake for 8 minutes. Add toppings and bake for 8-10 minutes more or until cheese, is melted and lightly browned. ( We like the texture better when it is baked without toppings and finished baking after toppings. )
Notes
This recipe may work with other gluten free blends, but I have only tried it with Bob's Red Mill 1 to 1 and King Arthurs Measure for Measure gluten free flour.