Gluten Free Dirt Pudding is a classic dessert made gluten free with gluten free dirt and gluten free pudding.
Dirt pudding has many names. I have heard it called dirt cake, dirt pudding cake, dirt pudding, flower pot cake, and more. No matter what you call it, dirt pudding is a fun dessert that kids love.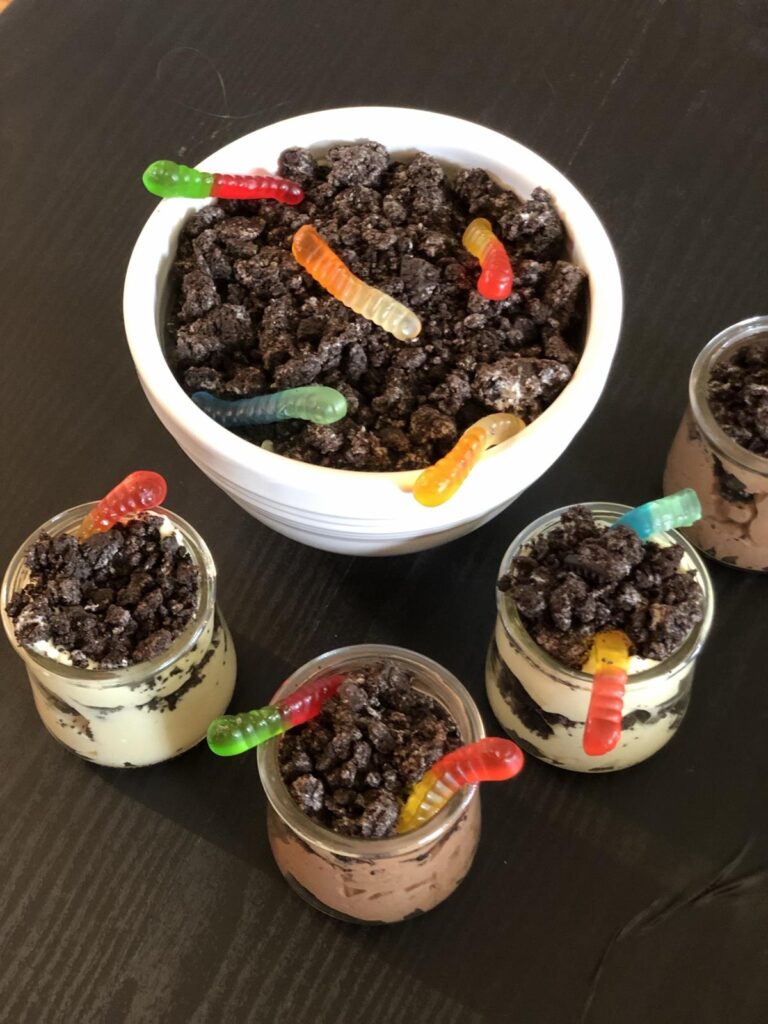 The first time I had dirt pudding cake was probably close to thirty years ago. My best friend's mom made it for an event and everyone loved it. I think she got the idea from Taste of Home magazine. It was an instant hit.
Over the years dirt pudding cake has been a popular dessert for kids parties, potluck dinners, and church events. It is easy to make and can be made in large amounts to serve a crowd.
Because dirt cake is a favorite I am taking the classic dirt pudding recipe and am making it gluten free.
Gluten free dirt pudding cake is a dessert that kids and adults are sure to love!
If your child eats gluten free or if you know a child that does, dirt pudding is a great dessert to make. It is a dessert that is so easy to make gluten free and is so good that no one will realize that it is gluten free.
It will make the gluten free kids feel so good when they can eat the same thing as all the other kids!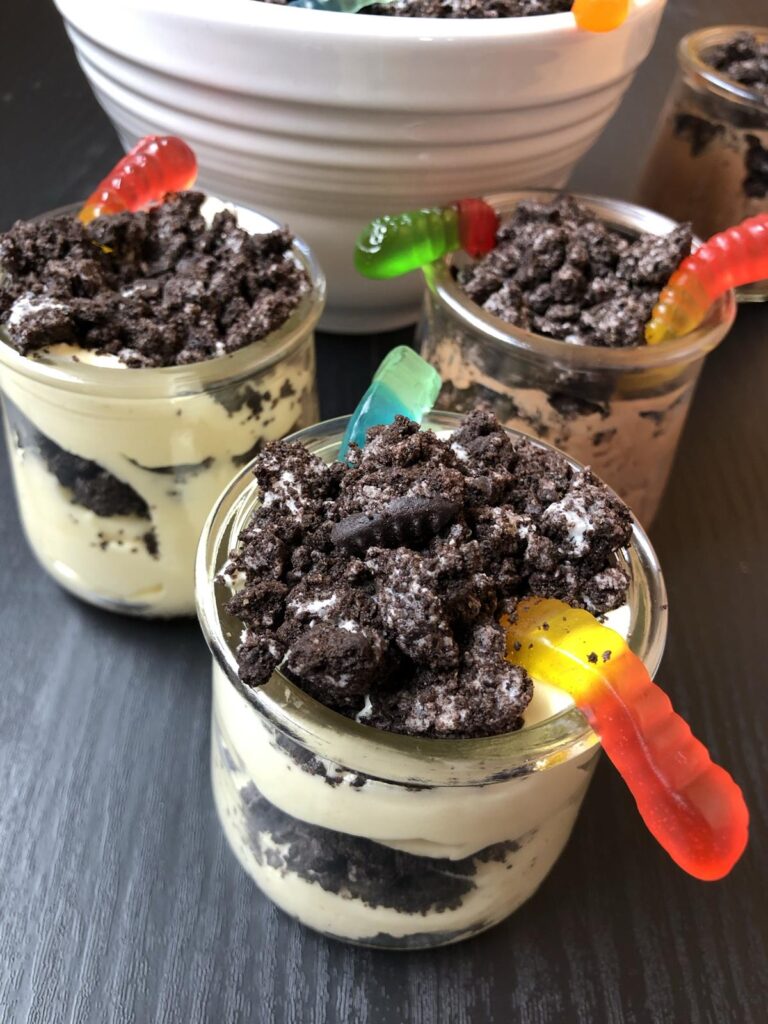 What is dirt pudding?
Dirt pudding is pudding with whipped cream, layered with Oreo cookie crumbs. Gummy worms are added to make it look more like real dirt. It is easy to make gluten free with just a few changes.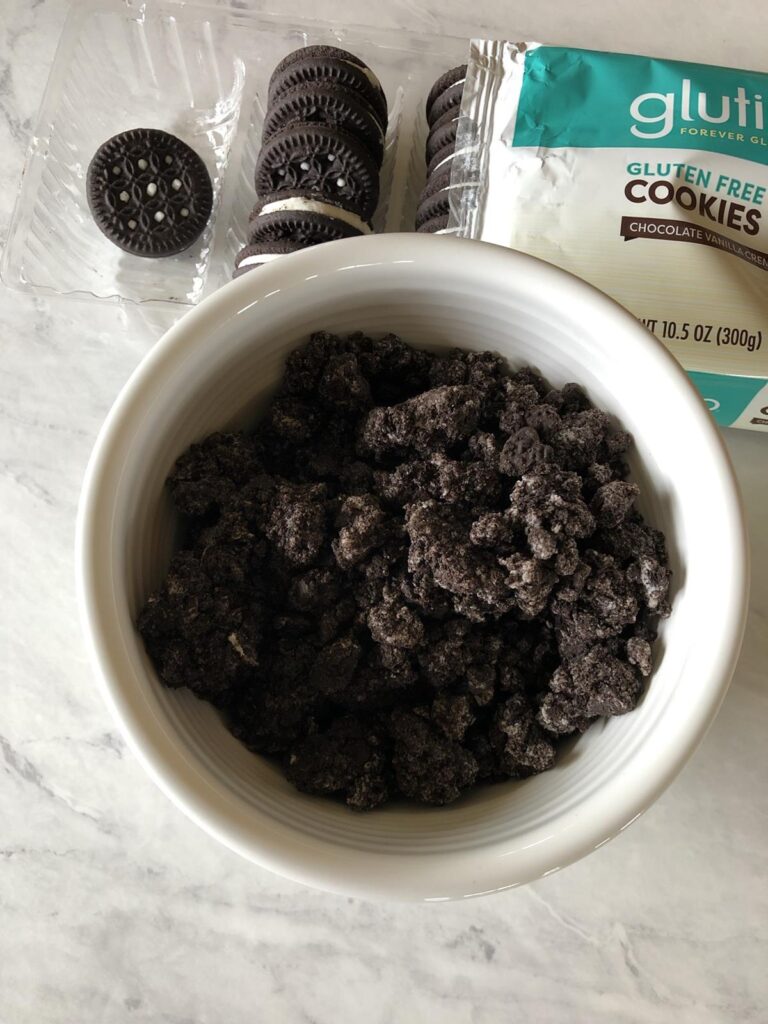 How To Make Gluten Free Dirt
This kid friendly dirt pudding is so easy to make using gluten free dirt.
What do you use to make gluten free dirt? All you need to make your dirt gluten free is to crunch up gluten free chocolate sandwich cookeis.
Gluten free sandwich cookies or gluten free Oreos will work. Gluten free chocolate graham crackers or really any crunchy gluten free chocolate cookies will work as well.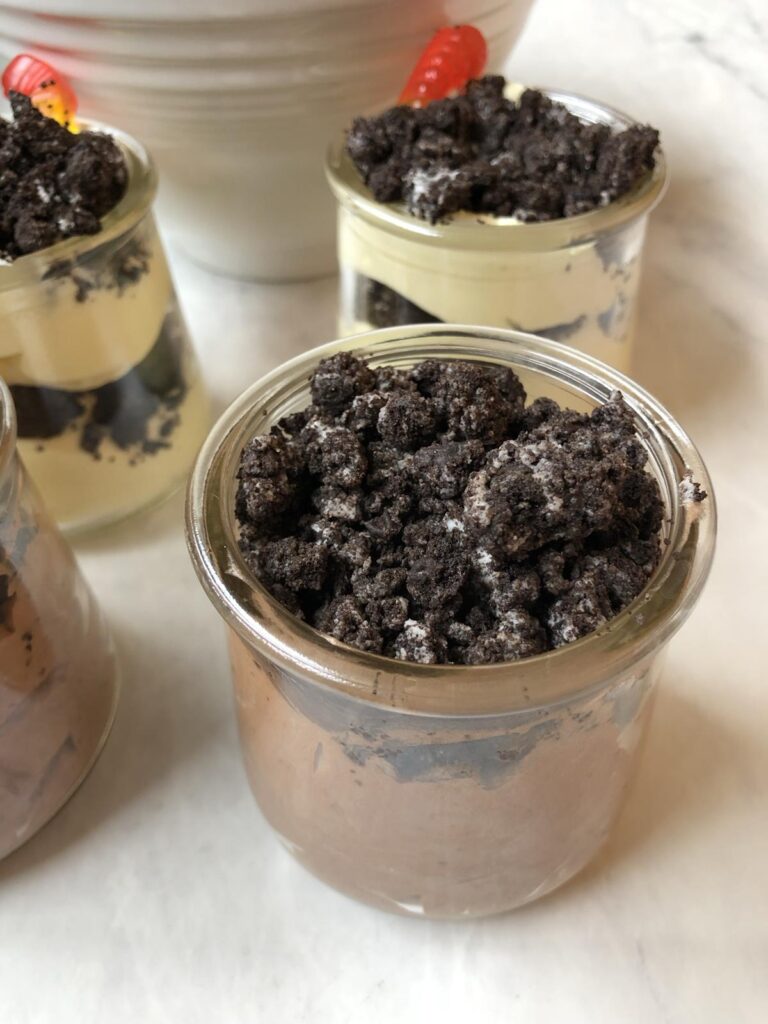 Gluten Free Dirt Pudding Cups
Dirt pudding can easily be turned into dirt pudding cups like in the picture above.
I like to use little jars for this, but if you are serving a crowd or a bunch of kids you can easily use disposable plastic cups.
I also usually leave the gummy worms off some of the pudding cups since not everyone loves gummy worms.
What type of pudding do you use in dirt pudding?
I think traditionally most people use vanilla pudding, but my family thinks chocolate pudding makes it look more like dirt. Plus, extra chocolate is always good.
The traditional recipe also uses boxed puddings. Those work fine as long as your box of pudding is gluten free. However, I also like to use homemade pudding to make it extra special.
My gluten free vanilla pudding or my gluten free chocolate pudding recipe both work great. If I am using homemade pudding I skip the cream cheese and just fold the whipped topping into the homemade pudding. Homemade pudding is rich enough and thick enough that it doesn't really need the cream cheese.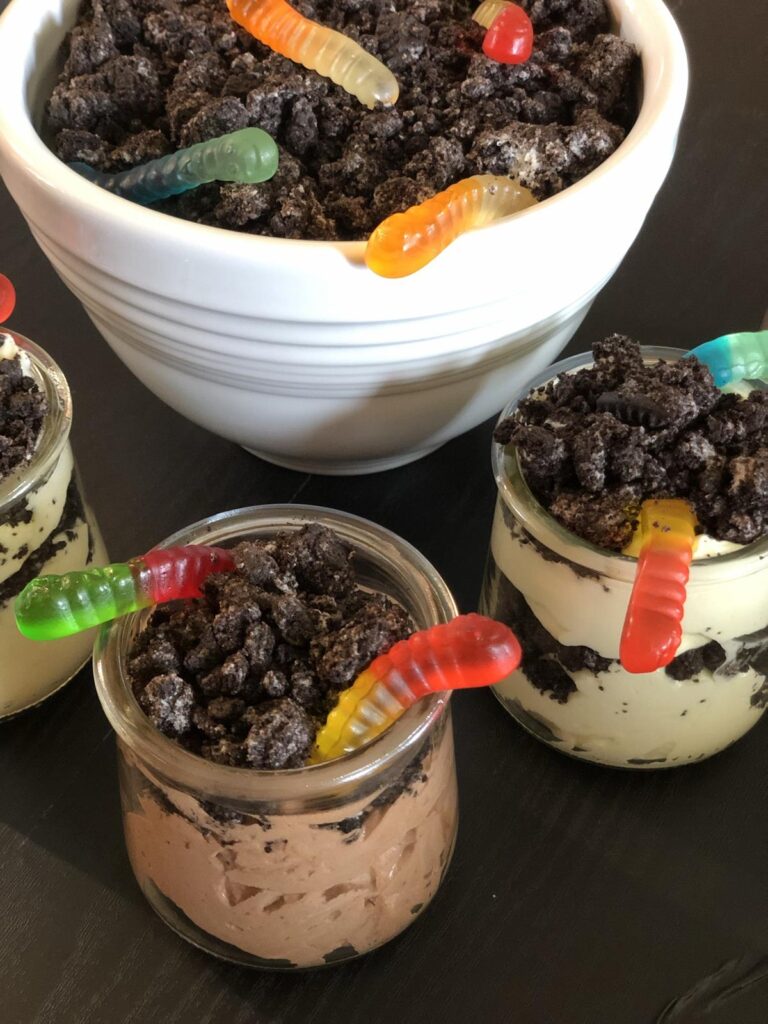 Yield: 12 servings
Gluten Free Dirt Pudding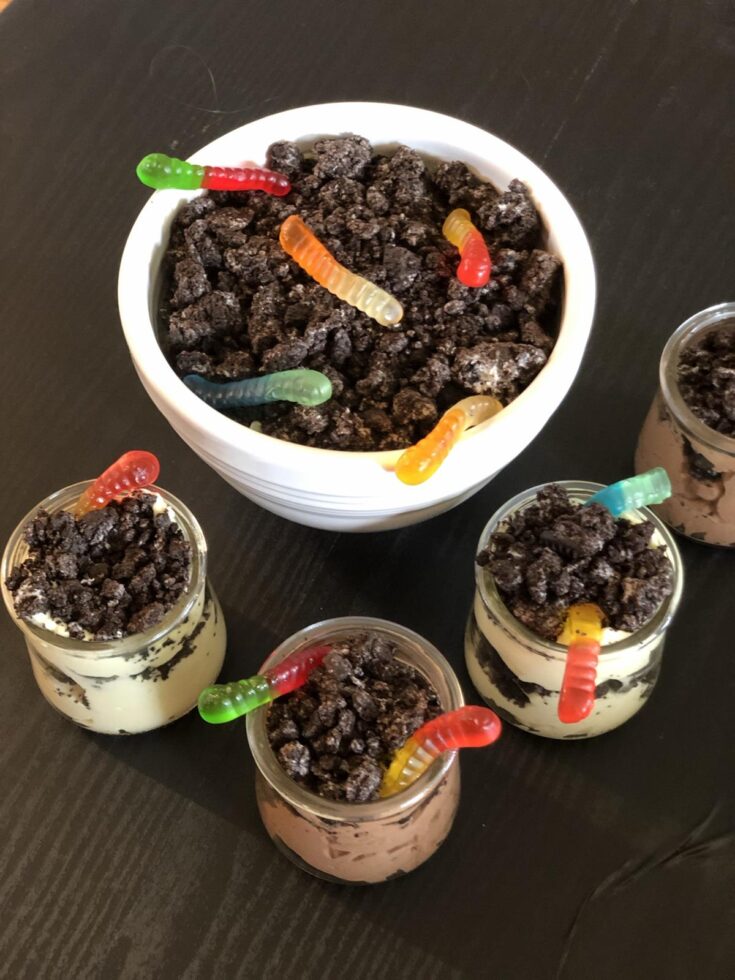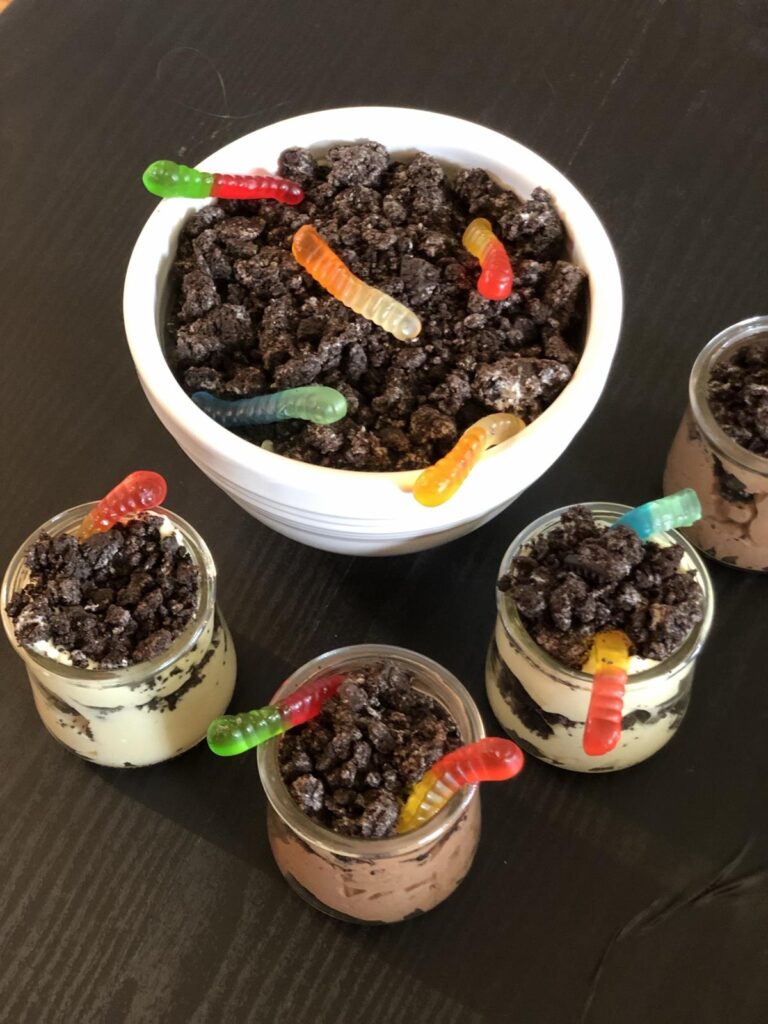 This easy kid friendy dessert is a gluten free dessert that everyone can enjoy. A classic dirt pudding made gluten free.
Ingredients
3 cups crushed gluten free chocolate sandwich cookies
8 ounces cream cheese, softened
1/2 cup butter, softened
1 cup powdered sugar
3 cups milk
2 -3.4 ounce packages gluten free instant chocolate (or vanilla ) pudding ( see note below for homemade pudding option )
8 ounces frozen whipped topping
optional - gummy worms
Instructions
Crush gluten free cookies until they look like dirt. Set aside.
In a large bowl mix cream cheese, butter, and sugar until light and fluffy.
In another bowl whisk together milk and pudding until thick. This will take about 2 minutes.
Fold whipped topping into pudding mixture.
Fold pudding mixture into cream cheese mixture just until combined.
In a large bowl or individual small cups or jars, layer pudding, crushed cookies, more pudding, and more crushed cookies on top. You can do just one layer of pudding and one layer of cookies on top, but we think it tastes better with several layers.
Add gummy worms to make it look more like dirt.
Nutrition Information:
Yield:
12
Serving Size:
1
Amount Per Serving:
Calories:

535
Total Fat:

33g
Saturated Fat:

22g
Trans Fat:

0g
Unsaturated Fat:

9g
Cholesterol:

54mg
Sodium:

222mg
Carbohydrates:

53g
Fiber:

2g
Sugar:

44g
Protein:

7g
Nutritional values are approxomite and aren't always accurate.